It began in the mid-1960s, when several physicians and business executives from Greenwood, South Carolina entered into an innovative business venture with Charles Fraser. For $1,000 an acre, the group bought a 2,000-acre no man's land on Hilton Head Island. The property would become Palmetto Dunes Resort.
Ten years earlier, the president of Greenwood Mills, Jim Self, Jr. had started investing in Hilton Head property, when no bridge existed and it took a very creative mind to picture what the island could offer. He and Charles Fraser, the modern-day founder of Hilton Head Island, partnered at Sea Pines to build the island's first golf course; the Ocean Course at Sea Pines.
By the mid-1970s, Greenwood was developing a project in Columbia, South Carolina with Environmental Resorts (ERI) a firm whose principals included Bill Gregory, one of the first owners of Palmetto Dunes; and Charles Bates, an architect who lived in Palmetto Dunes who designed the original Hyatt Hotel. They contacted the Self family about investing in another of their projects on Hilton Head, the Fazio Villas along the Fazio golf course. Bates was into the second phase of Fazio Villas and was somewhat bogged down, so he asked if Greenwood would take over the third phase of the project. And with that, Greenwood was back in the mix on Hilton Head.
Soon afterward, executives at Greenwood were approached to buy Palmetto Dunes. John Davis, who served as President of Greenwood Development from 1982 to 1999, said that things moved quickly: he decided to sign a 90-day option on Palmetto Dunes in June 1979. A few months later in November, Greenwood Development closed the deal on acquiring Palmetto Dunes, and the land that would become Palmetto Hall and Shelter Cove. At closing, Greenwood Development became Hilton Head's second-largest landowner.
With a significant presence now secured on Hilton Head, the company determined to create a deliberate and sound development framework for Palmetto Dunes. The community's legacy already was intact. Now, it was up to Greenwood Development to preserve it, and to advance it.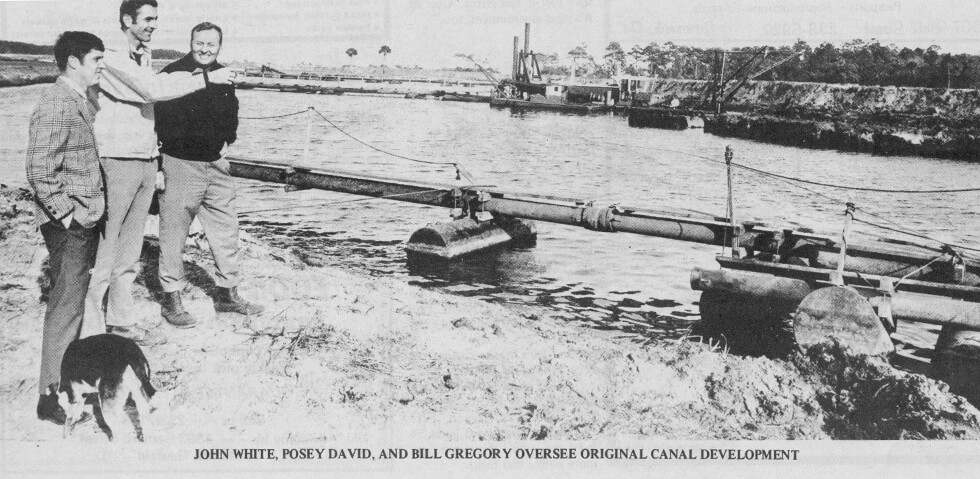 One giant advantage, already established, was the now-famous lagoon system. It was unlike anything else on the island, and it provided a unique template for future neighborhoods and amenities.
Work had begun to save the Palmetto Dunes beach in 1970. Led by Dr. Per Bruun and with the assistance from a British architect, a team of engineers and equipment operators constructed 11-foot high dunes using sand dredged from the lagoons. The scope of the project was mind-boggling. Massive pipes fed nearly 2 million cubic yards of sand from a 100-ton dredge out to the beach, where the dunes were bulldozed and shaped to the proper dimensions. Tidal gates were installed which today regularly flush the lagoons and control the tides.
"What we have at Palmetto Dunes is really a prototype for other coastal communities," said Dr. Bruun. "When we developed the lagoon system and built the dunes, there was very little beach at high tide. Palmetto Dunes was all forest, and full of snakes. The solution was the canal system; it was considered a radical way to handle things." And it worked. Today, it is hard to imagine Palmetto Dunes without its 11 miles of navigable lagoons.
Greenwood Development moved its focus to the west side of Highway 278 in 1980, with another major dredging operation that fashioned the deepwater marina at Shelter Cove (and provided 600,000 cubic yards of new sand for the Palmetto Dunes beaches, a remarkable engineering achievement). Officially dedicated in August 1983, in a ceremony next to King Neptune, the largest sundial in the world.
As Shelter Cove grew, the island gained much-needed retail and office environments, as well as a diverse selection of residences. Even the famous statue of King Neptune became a destination, drawing visitors and occasionally curious glances.
"We had to adjust some things in the early 1990s," said Mr. Davis. The drastically revised tax laws crimped the investor market for rental property. This forced site plan changes throughout Palmetto Dunes, scaling back multi-family homes in favor of single-family homes. Evaluating the market conditions, Greenwood Development made the right adjustments and repositioned its product in the increasingly competitive Hilton Head marketplace. "As a result, we sold out much more quickly than we'd originally anticipated," said Mr. Davis.
The 21st Century brought continuing improvements and recognition to Palmetto Dunes. In September 2002, renovation of the Robert Trent Jones golf course – the original course in the Resort – was completed. The newly elevated 10th green and the addition of junior tees regenerated the course, adding excitement and accessibility.
Effective January 1, 2006, Greenwood turned over the ownership of the common areas and the operation of Palmetto Dunes (excluding the Shelter Cove and Leamington areas, which had been previously transitioned to its homeowner associations) to Palmetto Dunes Property Owners Association, Inc.
Greenwood retained ownership of the golf courses, the tennis center and certain commercial properties within Palmetto Dunes. The PDPOA had been formed in 1977 mainly to represent the property owners in Palmetto Dunes and to communicate significant events to them. In 2006, the PDPOA became responsible for all operations, including ownership of all streets and roads, the entire lagoon system, beach access paths, and other common areas.
OUR TIMELINE THROUGH THE YEARS
1967
Palmetto Dunes Resort development began.
1968
Lagoon system, Robert Trent Jones Golf Course completed, and sales office opened.
1969
Registration office, pro shop, and restaurant opened.
1971
Water Oak and Beach Villas completed. Palmetto Dunes Public Service District created. Phipps Land Company became investor in Palmetto Dunes.
1972
Phipps Land Company acquired the remainder of Palmetto Dunes Property and created Palmetto Dunes Resort,Inc. Palmetto Dunes Public Service District became Broad Creek Public Service District.
1973
Hickory Cove and Chimney Cove Villas completed. Construction began on Fazio Golf Course and Queen's Grant Villas. Elevated 500,000 gallon PD water tank completed. Trent Jones Golf Center enlarged. Villa Registration building opened.
1974
Groundbreaking began on Hyatt Regency Hotel. Tennis Center completed, George Fazio Golf Course opened.
1975
Tennis courts opened. Dunes Marketing took over sales, Sand Dollar Management put in charge of Villa Rentals and PAI put in charge of regime management operations.
1976
Hyatt Regency Hotel Opened. Inverness Village and The Moorings completed.
1977
Ocean Cove Villas completed.
1978
Fazio Tennis Courts were completed. Turnberry Village opened.
1979
Greenwood Development acquired Palmetto Dunes.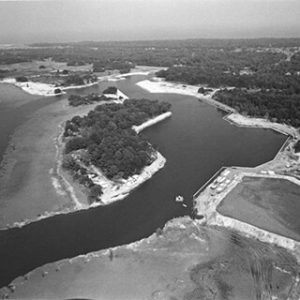 1980
Captain's Walk and Cove Villas completed. Construction began on Shelter Cove Marina.
1982
Land donated for Palmetto Dunes Club. Groundbreaking began on Hilton Oceanfront Resort. Harbour Side I and II construction began.
1983
Hilton Oceanfront Resort opened. Land donated for Palmetto Dunes Fire Station. Shelter Cove sales office and many condominiums developed. King Neptune Sundial dedicated.
1984
Land donated and construction completed for Hilton Head Island Chamber of Commerce building.
1985
Development of Leamington began.
1986
Arthur Hills Golf Course opened.
2001
New Tennis Center completed.
2002
Palmetto Dunes Property Owners Division established to provide greater management transparency for Palmetto Dunes Resort.
Robert Trent Jones Golf Course renovated.
2005
Palmetto Dunes Property Owners successful in lawsuit with Greenwood Development to manage own property.
2006
January 1st, 2006: transition from Greenwood Development to the Palmetto Dunes Property Owners Association (PDPOA) completed.
2007
Five tide gates are replaced that control the lagoon system.
Initiation of the Community Enhancement Fee for the benefit of the PDPOA common areas.
2009
Standardization of all signage in Palmetto Dunes.
2014
Long-term Bridge Replacement Program is started with the Starboard Tack Bridge.
Acquisition of the Fire Station and construction began on the new PDPOA Administrative/Pass Office building.
2015
Construction of the new entrance gate on Queens Folly.
New PDPOA Administrative and Security/Pass Office opens at 16 Queens Folly Rd.
2016
Reinvestment in 11 mile Lagoon system begins.
2018
Queens Folly Corridor Revitalization Project completed.
Palmetto Dunes celebrated its 50th Anniversary.
Palmetto Dunes Cares established.
Turtle Trot 5k started.
2020
Port Tack Bridges replaced.
2021
Sea Lane project completed.
2022-2023
The Sea Lane bridge was replaced, including realignment of the roadway and leisure pathway, integration of significant landscaping enhancements, and infrastructure improvements to accommodate future stormwater management initiatives along the Mooring Buoy corridor.
2023
Beach access pathways at Brigantine/Cat Boat and Flotilla/Galleon converted from stairs to ramps to improve ease of use. The addition of a Mobi-mat® nonslip beach path mat to improve safety and accessibility at the Dunes House beach access for people with disabilities or parents with strollers.